Keynote Speaker
Deborah (Debbie) Wells, NASA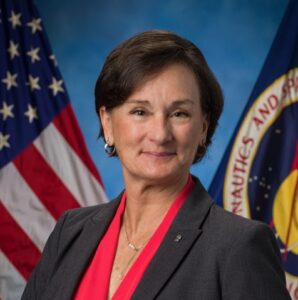 Debbie is a biomedical engineer with an MBA who has 28 years of space industry experience. Since 1988, she has contributed to over 100 space shuttle missions and the experiments aboard those flights building the knowledge base that helps keep today's astronauts healthy and inspires the next generation of research aboard the International Space Station and the ISS National Lab. She was the Life Sciences Services Contract lead for the development of KSC and DFRC facilities for astronaut research as well as for the design, construction and start-up of the Space Life Sciences Lab – the first facility in Space Florida's Exploration Park.
Debbie transitioned in the last year to Johnson Space Center to lead the Human Spaceflight Technical Integration Contract's support for the Orion Program and most recently landed at Leidos, Inc., an innovation leader in astronaut health, engineering and science where she is a Strategic Planner helping to shape the work on numerous NASA contracts.
SIU System Technology Presenters
Dr. Hui Li is an Assistant Professor at SIU Carbondale. Dr.  Li is leading a research laboratory for developing biomedical devices for precision pathogen diagnosis and personalized treatment. Dr. Li will introduce a novel pathogen diagnosis platform, which is able to detect bacterial infections and deliver personalized antibiotic solutions within 3 hours.
Dr. Kamran Shavezipur is an Associate Professor in the department of Mechanical and Mechatronics Engineering at SIU Edwardsville. Prior to SIUE he was a research associate at the Ohio State University, Stanford University and UC Berkeley. His research interests include Microelectromechanical Systems (MEMS) for biological, physical and chemical sensing and also simulation of multiphysics domains.
Dr. Shavezipur's technology enables real-time analysis of microorganism interactions with produce and can be used for the sanitization procedures to monitor the effectiveness of the process. The system is based on MEMS technology that simulates the porous surface of fruits and vegetables.
Dr. Kenneth Witt is a Professor at SIU Edwardsville, School of Pharmacy, Department of Pharmaceutical Sciences. He received his Ph.D from the University of Arizona, College of Medicine, with a focus on small molecule drug delivery.  He is also the CEO of Somatolynk, Inc. a biotech company focused on advancement of small molecule therapeutics targeting the brain.
Dr. Witt's research team at the School of Pharmacy have developed selective high-affinity non-peptide agonists for the somatostatin receptor subtype-4 (Sstr4) for treatment of Alzheimer's disease and associated conditions. Preclinical evidence identifies that Sstr4 selective agonists reduced Alzheimer's markers of pathological progression and enhanced cognition.
Dr. Scott Hamilton-Brehm is an Associate Professor of Microbiology at SIU Carbondale. He earned a PhD in Biochemistry and Molecular Biology from the University of Georgia and has over 15 years of research experience specializing in environmental and applied microbiology. In partnership with Thermaquatica, he works on developing microbial applications for the game changing new technology called Oxidative Hydrothermal Dissolution (OHD). Dr. Hamilton-Brehm's research teams have won international recognition from XPRIZE and NASA, and was named Innovator of the Year for the Illinois Innovation Network in 2022.
Dr. Hamilton-Brehm will present on the recent applications of Thermaquatica's innovative process oxidative hydrothermal dissolution (OHD) as a tool to fight climate change. All waste biomass decomposes into carbon dioxide and methane which contribute to global climate change, by using OHD the resulting liquor can be used as a biostimulant to grow larger crops, enhance soil health, or pumped deep underground for carbon sequestration, or to make food for livestock. This will ultimately close the carbon loop allowing all biomass to be recycled and eliminating the need for landfills.
Dr. Lahiru Jayakody is an Assistant Professor of Microbiology at SIU Carbondale. Dr Jayakody is a prolific synthetic microbiologist involved in metabolic engineering, green chemistry, and applied biotechnology. He holds ten patents/applications on engineering robust microbial cell factories applied to industrial applications.
Dr. Jayakody's µBites technologies combine the recycling of carbon-based waste products with microbial source human food production. They have integrated an oxidative hydrothermal dissolution (OHD) technology which dissolves waste biomass into water-soluble small molecules to feed synthetically optimized microbes to produce human nutritive material (e.g., carbohydrates, proteins, lipids, and vitamins). The µBites system was initially designed to provide daily nutritional requirements for humans in remote environments, such as on a mission to Mars under the NASA-deep space food challenge.
Dr. Richard Selinfreund is Head of Pathology Instruction at the SIU School of Medicine. He received his doctorate in Pathology at Los Alamos National Laboratory (degree granted by NMSU). Afterwards he completed a fellowship at the Howard Hughes Medical Institute, Vanderbilt University and Yale School of Medicine. His team is exploring new methods of teaching medical students and residents. Dr. Selinfreund is a co-inventor on over 30 US and International patents with colleagues across the United States.
Dr. Selinfruend's team will present a new learning-gamification 3D/AI platform that allows medical students to connect medical learning to patient outcome. This platform will enable medical student self-assessment in a completely innocuous environment. The first learning module will connect cellular-based decisions to specific clinical outcomes.
Dr. Yan Zhang is the Research Director at the National Corn-to-Ethanol Research Center (NCERC) of Southern Illinois University Edwardsville. Dr Yang is a leading scientist for scaling up the low-cost low-carbon intensity pathway to turn waste into cellulosic sugars, then ethanol. Dr. Zhang leads the technical team at NCERC to assist clients and collaborators in scaling up innovative technologies from bench level to commercialization.
Dr. Zhang's team at NCERC has developed a room-temperature pathway to maximize sugar and ethanol production from landfill-bound municipal solid waste and agriculture waste like corn stover. With minimal particle size reduction, the waste material undergoes a proprietary process to convert the glucose and xylose in the sugar stream to 190 proof ethanol, a feedstock for sustainable aviation fuel (SAF) based on the Alcohol-to-Jet (ATJ) pathway.
Dr. Louis Premkumar is a Professor in the Dept. of Pharmacology at  SIU School of Medicine. He was an Assistant Professor/Principal investigator in the Dept. of Physiology and Biophysics at SUNY Buffalo and a Post-Doctoral Fellow in the Div. of Neuroscience at the John Curtin School of Medicine.
Dr. Premkumar will present the use of a novel polymer-coated nanoparticle cream formulation of resiniferatoxin for the treatment of painful diabetic peripheral neuropathy. His team has revealed unique properties, which include high potency, induced depolarization block preventing pain transmission in the short-term, and temporary nerve terminal desensitization/depletion in the longer-term.
Dr. Boyd M. Goodson  is a tenured full professor in the School of Chemical and Biomolecular Sciences at SIU Carbondale, he also serves as the Associate Dean for Research in the College of Agricultural, Life, and Physical Sciences. His prolific research in the field of MRI contrast-agent development has led to the creation of XeUS Technologies LTD which produces instrumentation for hyperpolarization-enhanced NMR and MRI. Dr. Goodson was named Inventor of the Year for the SIU system in 2022.
Dr. Goodson's team has developed new technologies to dramatically improve the power and applicability of magnetic resonance imaging (MRI). Current MRI methods are limited to imaging the body's water molecules. The ability to image other substances in the body provides a much more direct window on disease and organ function. His approaches promise to greatly improve the sensitivity of MRI so that it can be used to scan other substances, including low-concentration molecules that can sense cancer, and to illuminate lung function. This technology enables MRI at much lower fields, obviating the need for the expensive, bulky, confining, and non-portable magnets normally needed in conventional MRI.
Dr. Khalid Meksem is a Professor of genetics and genome biotechnology in the College of Agricultural, Life, and Physical Sciences. Dr. Meksem earned a doctorate in plant biochemistry and genetics from the University of Cologne at the Max-Planck-Institute.Dr. Meksem has more than 100 peer-reviewed articles published in journals including Nature, Nature Communications, Plant Biotechnology, and other renowned journals. He holds five patents and has secured more than $25 million in external funding over his career. Dr. Meksem was SIU system 2021 Inventor of the Year.
Dr. Meksem has discovered that the more copies of the GmSHMT08 gene (Rhg4 gene) disease resistance gene a soybean line possess, the broader its resistance to Soybean Cyst Nematode (a perennial pest capable of reducing yields dramatically). Additionally, Dr Meksem will discuss numerous mutations in the beta-conglycinin genes CoGy1, CoGy2, and CoGy4 that correspond to an increased level of oil and protein content in soybeans.
Booth Presentation
Dr. Michael Shaw is a distinguished research professor at SIU Edwardsville. His research focusses on the synthesis of biologically-relevant metal-containing molecules, the consequences of electron transfer on their structure and reactivity, and new methods of studying electron-transfer chemistry. He earned a BSc in Chemistry at Mount Allison University, a PhD in inorganic chemistry at the University of British Columbia and was a postdoctoral fellow in electroanalytical chemistry at the University of Vermont.
Dr. Shaw's team will present his patented potentiostat design which promises important public benefits. The current design is scalable to provide affordable, low current applications for large scale distribution in education such as in high school labs, college labs, and home-schooling projects. In the field of medicine, potential and affordable testing of human samples includes detection of antigens at specialized electrodes. Environmental sampling, such as wastewater and surface runoff analysis, will be easily achieved. This design could also be used to separate therapeutically-relevant compounds for radiopharmaceutical applications.
AI Discussion Panelists
Moderator: Dr. Spyros Tragoudas is a Professor and Director of the School of Electrical, Computer, and Biomedical Engineering at Southern Illinois University Carbondale (SIUC). He is the Director of the NSF Industry-University Cooperative Research Center (IUCRC) for Interconnected, Distributed Embedded Applications, and Systems (IDEAS and the Director of the Consortium for Embedded Systems at SIUC.  He received his Ph.D. degrees in Computer Science from the University of Texas at Dallas in 1988 and 1991. His research interests are in embedded systems, electronic design automation, and machine learning. Dr. Tragoudas was named Inventor of the Year for the SIU system in 2023.
Panelist: Dr. Eren Gultepe is an Assistant Professor of Computer Science at SIUE. His current research focus is on feature learning and natural language processing with specific applications to functional neuroimaging, cultural heritage, and atmospheric & climate systems.
Panelist: Pinckney Benedict studied creative writing at Princeton University (BA 1986) and at the Iowa Writers' Workshop (MFA 1988). He established and directs the Digital Xpressions Lab of the College of Liberal Arts.
Panelist: Dr. Iraklis Anagnostopoulos is an Associate Professor at the School of Electrical, Computer and Biomedical Engineering at Southern Illinois University, Carbondale, and the director of the Embedded Systems Software Lab. His research interests lie in the areas of machine learning, approximate computing, heterogeneous hardware accelerators, and hardware/software co-design. He has received the best paper award in the top EDA conference DATE, and multiple other best paper nominations.